The Personalized Approach To Fitness At Our Southlake Gym
Physical fitness is a tricky but fascinating concept. As human beings blessed with complex bodies capable of achieving incredible feats, your local gym in Southlake here at ProCore Fitness believes that we were meant to live active, fulfilling lives. While the desire to help everyone in our Southlake community reach their true physical potential burns strong, it's important to take a step back and understand that everyone's fitness journey is unique and individual. There is no "one-size-fits-all" prescription for fitness, as our bodies have unique chemistry, metabolic processes, and physiology.
Fortunately, ProCore Fitness realizes that time spent exercising is optimized when a workout program is tailored to the individual, and that's exactly what our Southlake gym offers.
Lasting Transformations For Lifelong Health At Our Southlake Gym
Whether you're seeking to get back into shape after a long period of sedentary activity, you're looking for coaching advice on how to exercise and bulk up safely, or you're just not sure where to begin, ProCore Fitness is committed to helping you achieve and excel past your goals. Our Southlake Gym goes way beyond treadmills and exercise machines by providing individualized nutrition coaching, personal training, and group fitness classes. With the help and verbal encouragement of our friendly staff and fellow gym goers, we believe in lifting each other up (figuratively, most of the time!) and supporting our fellow Southlake community members no matter where you are in your fitness journey.
Positive Empowerment Through Coaching
In the fitness world, you'll see the term "personal training" being thrown around a lot, but at ProCore Fitness, we prefer to think of our trainers as your coach. Coaching and empowering people just like you is the cornerstone of our Southlake Gym and the driving passion behind what we do. While a trainer motivates you based on fear and fixing blame, coaches address real problems and inspire confidence within you. With a genuine interest and investment in your physical and mental health, our team of stellar coaches at ProCore Fitness are here to build you up and help you reach your physical potential.
Why Is ProCore Fitness Different?
Let's be real – gyms are a dime a dozen these days. It's not hard to find a clean place to use their gym equipment, and maybe even work with a trainer once or twice a week. But what about working with a team that's invested in your long-term health? ProCore Fitness is the first all-inclusive nutrition and exercising coaching program intended for hard-working moms and busy executives who are seeking permanent weight loss, performance improvement, more daily energy, and an all-around feeling of well-being.
With decades of combined experience and fitness expertise, our Southlake gym has come to learn that people tend to achieve more when they're motivated and coached by a small team of dedicated experts. That's why we've incorporated nutrition coaching and wellness into our business model, providing you with your own private nutrition coach, functional movement coach, and a dedicated professional trainer (ahem, coach). By helping you exercise safely, efficiently and intelligently, you'll maximize your time spent exercising while simultaneously building relationships with our team. Together, we'll learn, grow, and get stronger!
Weight Loss Coaching
With a number of raving testimonials to back us up, ProCore Fitness has helped many Southlake residents in our local community lose weight, and more importantly, maintain their weight loss. While typical diet fads and lose-weight-quick programs promote rapid weight loss, they don't consider the bigger fitness picture. All too often, people are excited about losing 10 to 20 pounds, only to gain it back in a matter of weeks. Though it takes dedicated, hard work to build the momentum, our weight loss coaching services are designed to help you lose fat while gaining lean muscle at the same time.
Lose Weight and Keep It Off
By combining fitness and nutrition coaching, what you do in the kitchen is just as important as your time spent at our Southlake gym. ProCore Fitness strongly believes that good physical fitness and quality nutrition go hand-in-hand, and one without the other makes true weight loss more challenging than it needs to be. To us, it's all about the long-term, lasting results, not rapid weight loss over the course of days or weeks.
Our Southlake weight loss coaching program includes personal coaching services, 1-on-1 weekly nutrition coaching with a certified food expert, and 2-4 small group training sessions per week. By knowing what to eat and how much to eat combined with a safe and effective exercise regimen, you'll be setting yourself up for success. Top it off with the support and encouragement of fellow Southlake gym goers just like you and what you're left with is a powerful formula for lasting, long-term weight loss.
It All Starts With The Fuel In Your Body
If you put garbage food in your body, then expect garbage results when you exercise. While exercise is an important and vital component of the fitness equation, proper nutrition is arguably more important. Why hold back your progress with an unhealthy diet? We're invested in your health and wellness beyond your physical fitness potential, and that's exactly our nutrition coaching services help with.
Partnering With Balanced Habits LIFE®
The authority in nutrition coaching and food guidance, Balanced Habits LIFE® has supported thousands of people just like you to discover more energy, vitality, and an overall happier way of life. By teaching you what to eat, what to avoid, and how you may have been misled about what you previously thought was healthy, the idea behind Balanced Habits LIFE® is to instill you with the proper nutrition habits for…well, life! By working with our Southlake residents on a one-on-one, personal basis, Balanced Habits LIFE® and ProCore Fitness believe in building a strong bond with our community members facilitated by trust. The better you eat, the better you'll feel and perform inside and outside our Southlake gym. Trust us when we say that quality nutrition tailored to your unique physiology is more than significant. It's essential! Visit here to learn more about nutrition coaching at ProCore Fitness, and learn more about Balanced Habits LIFE® here.
Performance Fitness Coaching In Southlake
ProCore Fitness addresses multiple areas of fitness beyond weight loss and helping our Southlake community get started on their fitness journey. If you've been working hard on your own for awhile and you just can't seem to meet your personal goals, our Southlake gym is here for you! Over time what we've noticed is that exercise has an addictive component, and it goes far beyond the endorphin rush from being active (commonly referred to as the runner's high).
Once you start to notice some progress – perhaps your waist is getting a bit thinner, or your muscles are looking more defined – you're naturally motivated to reach the next fitness level and work toward being your very best. We applaud your choice to improve your health and work toward getting in peak condition. ProCore Fitness can help you maximize your time spent exercising in order to avoid costly injuries while helping you exercise intelligently and efficiently. Really, whether you are a seasoned athlete or you're just getting back into healthy habits after a vacation or time off from exercising, our health coaches in Southlake are here to work with you right by your side.
Your Schedule Is Our Schedule
While some gyms offer incentives or discounts for you to come in and meet with their personal trainers during certain times, ProCore Fitness is dedicated to working with you on your time. We take your busy lifestyle into consideration, acknowledging that, while fitness is an important part of anyone's life, you have other things going on. Respecting your timeframe and day-to-day schedule, ProCore Fitness designs our performance fitness training program around you and your spare time. We offer two to four personal coaching sessions a week, combining your fitness with weekly nutrition coaching. With our help, you'll be equipped with everything (including plenty of verbal encouragement!) to reach new heights and achieve your goals.
Fitness Coaching At Your Level
Why do our clients rave about their experience with our Southlake gym? Realistically, there are many reasons – effective weight loss strategies, learning how to right healthily, improving cardiovascular health, working toward and successfully breaking a new personal record. Most of all, however, Southlake residents agree that the best part of our coaching services at ProCore Fitness is that they actually work, setting people up for a lifetime of good health and fitness. As we've emphasized, permanently getting in shape isn't about rapidly dropping pounds and bulking up muscle, developing washboard abdominals in an unnatural timeframe.
While weight loss, lean muscle gain and cardiovascular endurance are important aspects of being in shape, what ultimately matters is how you feel on a day-to-day basis. It's the little things in your everyday life that start to add up, like breathing easier during a long hike or tackling that flight of stairs with confidence. Fitness is a matter of your health and wellbeing as much as it is about strength and breaking personal records. By having a thorough understanding of your fitness background, your goals, and your physiological makeup, our gym in Southlake can and will help you get healthier.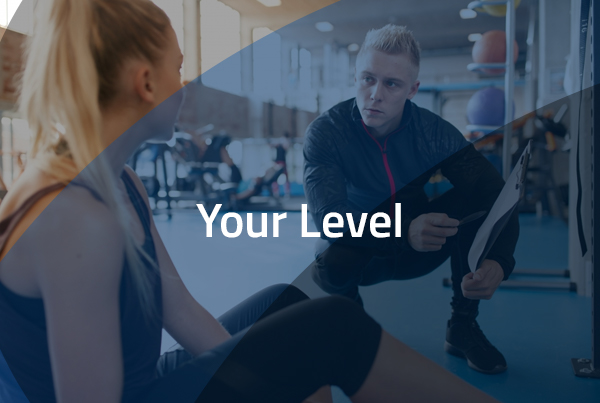 Working Toward Better Health, Step By Step
Okay, so if we're being realistic (which we are), there's no magical one-size-fits-all formula to fitness as we mentioned above. Now, it's a free market, and you're welcome to try exercise videos, virtual trainers, the latest diet fads, or anything else that strikes your fancy. But what about a step-by-step fitness solution that sets you up for long-term success in health and fitness?
Our Coaching Process
Constantly re-engineering and improving your coaching ongoing coaching experience, we don't set concrete plans as you progress in your quest to get fit. Because your body changes over time, ProCore Fitness adjusts our coaching programs to accommodate the changes you're going through. We pride our gym in Southlake on our dynamic fitness model, making sure that you're getting the most out of the experience from the moment you meet us to years down the road when you're winning races and setting once-unbelievable personal records.
Here's an idea of what our coaching process looks like:
     1) Define Your Goals (Together)
No one knows you better than…well, you! By getting to know each other, we'll get familiar with your fitness goals, what your background is like, and your level of commitment. From casual gym goers to future Ironman triathletes, we've seen it all.
     2)  Your Evaluation
No, we're not judging or holding your current state of health or fitness against you. On the contrary, we're just getting a better understanding of your unique body chemistry and physiology to better tailor our personal coaching services, especially nutrition coaching. Your evaluation includes a body-fat assessment, a nutrition assessment, a flexibility assessment, body measurements, and goodbye photos – something that's motivating for a lot of people.
     3)  Designing Your Personalized Program
There are many fitness programs out there, but none quite like yours. Individually tailored based on six components, we'll work with you to make sure that we're on the same page about your exercise plan. We take nutrition, supplementation, resistance training, cardiovascular exercise, movement flexibility and efficiency, and coaching into consideration.
     4)  Implementing Your Program
If you don't understand your program, you can't execute it. If you can't execute it, then what's the point? ProCore Fitness will work personally – right beside you, literally – to make sure that you know what you're doing. Our Southlake gym will teach you the components to help you build new, healthy habits, provide accountability, and overcome obstacles together.
    5)  Reassessment
Here's the ProCore difference: we consistently follow up with our clients, checking in to see what's working and what's not. Every four weeks, we identify and celebrate your successes, identify your biggest challenges to overcome them, and work hard to continue improving your personal program and the results that follow.

Come Visit Our Gym In Southlake To See For Yourself!
From everyday tasks in your day-to-day life to overcoming seemingly-impossible fitness challenges, an investment in exercise is an investment in your health. Sounds like a smart move to us! ProCore Fitness would love to get moving with you here at our Southlake gym. Get in touch with us today to get started!